Designed to save you time and maximise your creativity, the FLX lighting console is fully featured, portable and easy to use.
Whatever your background, FLX will feel instantly recognisable, due to the industry standard familiar syntax and intuitive fader-per-channel intensity control. FLX gives you unlimited access to 2048 channels (upgradable up to 8192), with no fixture patch limitations. Picking exactly the right colour is no longer a laborious task! Quickly and accurately create the colour you want using either the encoder wheels, or the built in touch screen colour picker and quickly record it straight onto any of the 240 instant-access colour palettes, to recall later.
From design to manufacture, FLX has been developed to work in a wide range of demanding situations, with specific considerations for live events & hire, touring productions, multi purpose venues, theatres and educational applications.
We give you more time to do what you do best – be creative. Tools such as Auto Palettes and RigSync do all the prep work, getting you ready to operate quicker than ever before. Programming time is reduced with a simple three step programming method for moving lights, colour changing and conventionals - what you want, how you want it, where you want it. And for all those really important features you need over and over again – you always have direct instant access via the Z button.
24 multi-function faders
User Definable Keys (UDKs)
241 playbacks (each with submaster & full cuestack functionality)
240 groups, 5 x 240 palettes (Colour, Beam, Shape, Position, Effect)
Full control of multicell fixtures
Full manual or automated control of move on dark
Dedicated GO, Pause & Playback Fader for theatrical control
Multi-touch interfaces for Colour & Moving Lights
Hands-on intuitive control via 4 encoder wheels
Art-Net 4, sACN and CITP
7" multi-touch screen
Automatic Groups, Palettes, Effects and Macros
Colour mixing, picking & image picker
Filter libraries by LEE Filters, Rosco and Apollo
Additive, subtractive and HSV control
Store single or multiple cues on each of the playbacks
Showfile compatibility with other ZerOS consoles
Quiet, dust free, fanless operation
Scratch-resistant rugged dual-skin construction
Channels patchable across 64 Universes
Two XLR Outputs (2 x 5 pin)
3 year warranty
CE compliant to all relevant standards
Designed and manufactured to ISO9001 Standard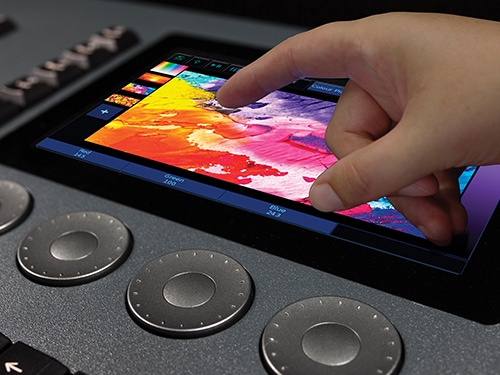 Colour Picker
Colours can be quickly selected using the built in colour picker, or by selecting a colour from any image you wish - such as a photograph or company logo.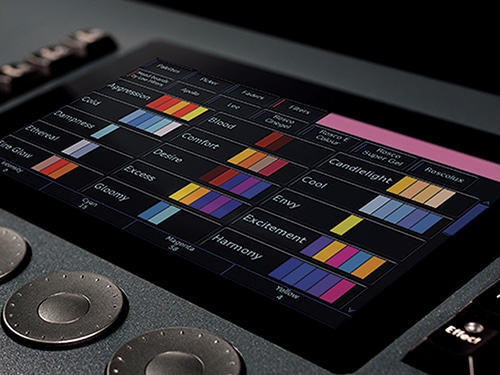 Filter Libraries
Built-in filter lookups from LEE, Rosco and Apollo help recreate colour filters, and "Mood Boards by LEE Filters" combine complimentary colours into groups such as "Anger", "Royalty" and "Love".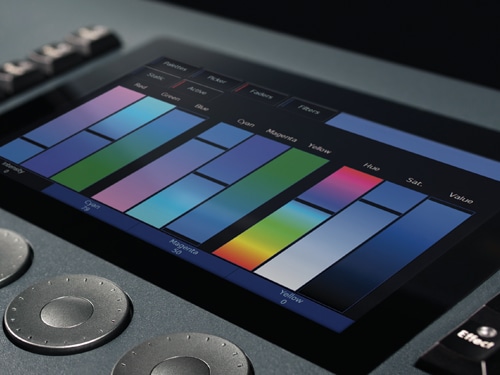 Multi-touch control
The built in 7" touch screen uses "Projected Capacitive Touch" (PCAP) technology, giving true multi touch capability.
a revolutionary approach to colour and movement for the tablet generation as being part of a well thought out-desk package aimed at an accessible price point for entry-level and more professional users
Judges, PLASA Awards for Innovation
| Part Code | Name | |
| --- | --- | --- |
| 0020-000004-00 | FLX, 2048 channels, UK | Request quote |
| 0020-000009-00 | FLX, 4096 channels, UK | Request quote |
| 0020-000035-00 | FLX, 8192 channels, UK | Request quote |
| 0020-000005-00 | FLX, 2048 channels, Schuko/French | Request quote |
| 0020-000010-00 | FLX, 4096 channels, Schuko/French | Request quote |
| 0020-000036-00 | FLX, 8192 channels, Schuko/French | Request quote |
| 0020-000006-00 | FLX, 2048 channels, US | Request quote |
| 0020-000011-00 | FLX, 4096 channels, US | Request quote |
| 0020-000037-00 | FLX, 8192 channels, US | Request quote |
| Part Code | Name | |
| --- | --- | --- |
| 0095-000163-00 | FLX Carrier PCBA | |
| 0550-000218-00 | FLX Q7 Module Cortex A9 | |
| 0095-000164-00 | FLX User Interface PCBA | |
| 0095-000165-00 | FLX Encoder Wheels PCBA | |
| 0095-000166-00 | FLX MFFs PCBA | |
| 5620-000611-00 | FLX Plastic Side (2 required per desk) | |
| 0021-000004-00 | FLX Internal PSU (60W 15V) | |
| 0095-000168-00 | FLX Touchscreen Assembly | |
| 5110-000039-00 | 2m Mains Lead - UK Plug to Neutrik powerCON TRUE1 TOP | |
| 5110-000040-00 | 2m Mains Lead - Schuko to Neutrik powerCON TRUE1 TOP | |
| 5630-000030-00 | FLX Button Cap Set | |
| 5356500 | Keyswitch (Cherry) - no LED | |
| 0095-000170-00 | Keyswitch (Cherry) - red LED | |
| 0095-000171-00 | Keyswitch (Cherry) - blue LED | |
| 0095-000172-00 | Keyswitch (Cherry) - white LED | |
| 6050-000013-00 | Black button (Wide) - single white LED | |
| 1722-000007-00 | 45mm Fader (FLX: Grand Master, FLX S: All) | |
| 1722-000010-00 | 60mm Fader - long tang (Master Playback) | |
| 1722-000006-00 | 60mm Fader - short tang (MFFs) | |
| 5442000 | Soft Touch Fader Cap (Wide) - Black/White | |
| 4905000 | 3V Lithium Coin Cell Battery - 200mAh | |
| 3194000 | 5pin XLR socket (plastic, right angled, PCB mount) | |