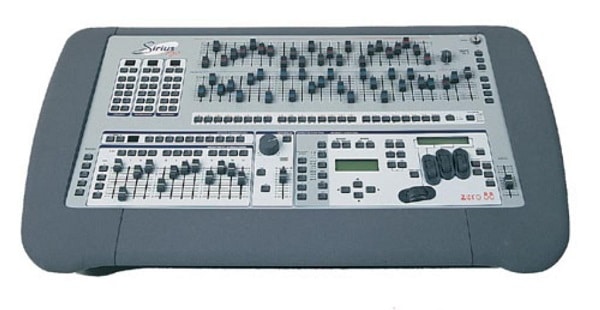 Sirius range
Legacy product
The Sirius 24 & Sirius 48 lighting desks combine the familiar two preset desk with the best of computer based desk technology, to produce a very powerful but simple lighting control desk. This make Sirius suitable for a wide range of applications such as schools, colleges, theatre, hire, conferences and rock and roll. Sirius 24 & Sirius 48 consoles were manufactured from 1989 to 2000.
The Sirius 500 is a 512 channel, and the Sirius 250 is a 256 channel lighting desk, incorporating many of the flexible, friendly and robust features of the original Sirius 24 and 48 models, but also introducing new techniques and the latest technology. The traditional Sirius hallmarks are all there: Key Switch for changing between operating modes, two Presets, Submasters, GO button, Memory Effects, etc., together with new features, such as two built-in liquid crystal displays for operator feedback, an optional external monitor, external keyboard and mouse, 4 Wheel Drive® for easy control of fixture parameters, floppy disk backup, and much much more. Sirius 250 & Sirius 500 consoles were manufactured from 1997 to 2000.
The Sirius 250 is pictured.