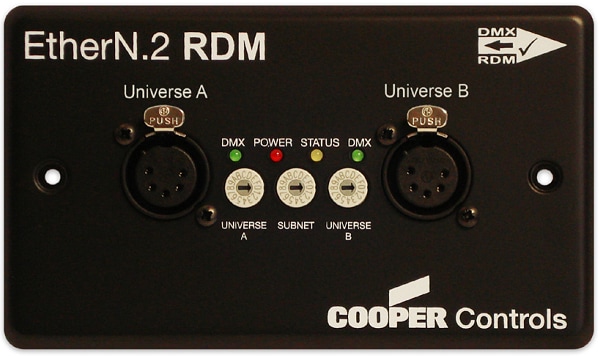 EtherN.2 RDM
Legacy product
EtherN.2 RDM provides two selectable universes of DMX/RDM output from your Ethernet system. Any two universes of Art-Net DMX/RDM data may be output from the EtherN.2 RDM to your lighting system. EtherN.2 RDM is designed for mounting within a UK double gang back box. The unit is configured through an internal web server or via optional control software.
The EtherN.2 RDM is fully compatible with the latest RDM protocol, ensuring your DMX distribution network is ready to meet your future demands. The wall mounting fixing makes it ideal for permanent installations, with units building up into a larger distributed data system. When combined with any ZerOS family console, the EtherN.2 RDM provides on-board configuration from the console, for a truly integrated system.
Whatever your lighting system, the EtherN.2 RDM delivers data where you need it.
Click here to download DMX Workshop, the free configuration software from Artistic Licence.