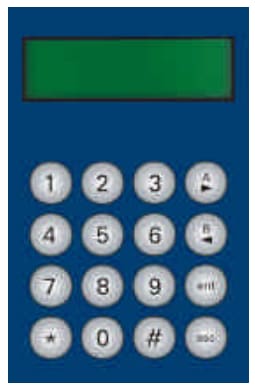 This chapter describes all the various dimmer functions, which can be adjusted using the user interface buttons, with settings and information displayed on the LCD. If ChilliNet is enabled, the LCD will be in ChilliNet mode and will display different information.
LCD Display
The LCD Display comprises two lines of 16 characters. For example:
Numeric Keys
The numeric keys (0 - 9) are used for entering numerical data (eg channel number, manual levels etc.)
Star Key
The Star key * is used to toggle the back light on and off when the Main Screen is displayed.
Hash Key
The Hash key # is used to toggle the channel level between 0% and 100% in Manual Control or Edit memory.
Cursor Keys
The cursor keys A> and B< are used to scroll across menus, select options from a defined range, or increase or decrease the value in a selected field.
Enter Key
The Enter key ENT is used to confirm numeric data entry, move down menu structures, confirm operations etc.
Escape Key
The Escape key ESC is used to escape from memory structures.