Cues & Playbacks
Special Playback Functions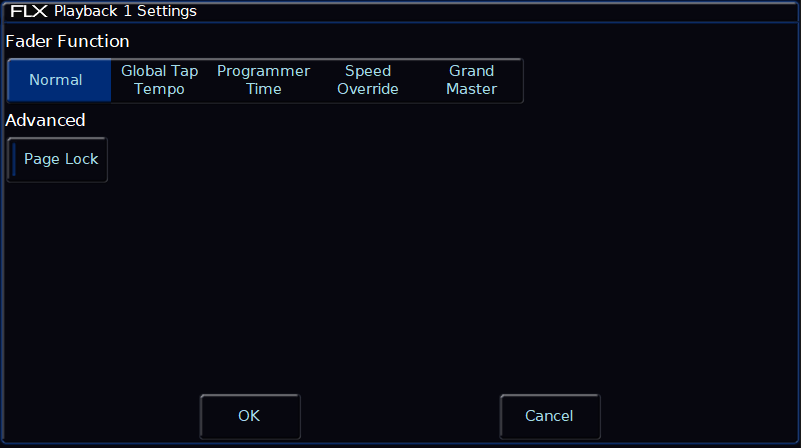 Playbacks that do not have any cues recorded on them, can be configured to give you access to four extra functions. To do this, hold Setup and tap an empty playback's button.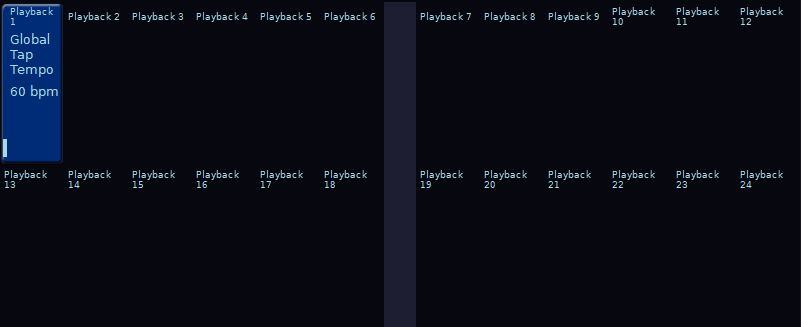 Global Tap Tempo can be chosen, to turn the fader into a Global BPM control. This will therefore control the speed of any chases which are configured to use Global BPM. The button of this playback becomes global tap tempo. In the faders window, the current BPM is displayed on the onscreen fader (pictured). Lowering the fader to 0, will pause any chases using Global BPM.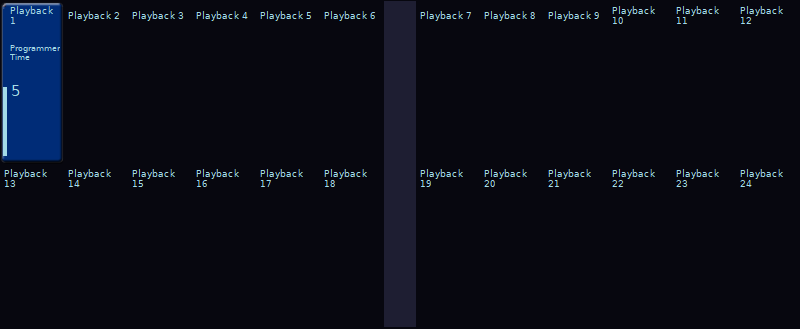 Programmer Time can be used to apply a fade to live manual commands. This time is applied to syntax, palettes, and manually releasing playbacks.
The button of this playback can then be used to enable/disable Programmer Time. In the Faders window, it is highlighted in blue when enabled (pictured). The fader can then be used to set the time from 0 seconds, to 11 minutes 30 seconds.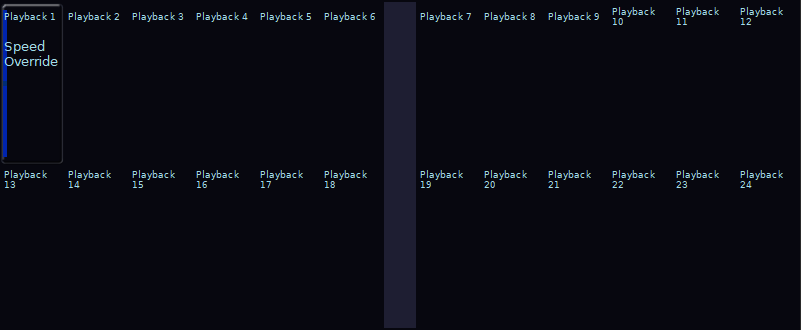 Speed Override can be chosen, to allow the fader to speed up or slow down cue crossfades occurring on the currently viewed playback. By default, Override will be at 50% to give "normal" crossfades, and so this fader will then need to be at half of its travel for no override. Raising the level above 50% will increase the crossfade speed proportionally and reducing the level below 50% will slow down the fade proportionally. Fully raised will snap the cue, and fully down will stop the cue.
Speed Override can also be used to speed up or slow down effects running in the currently viewed playback.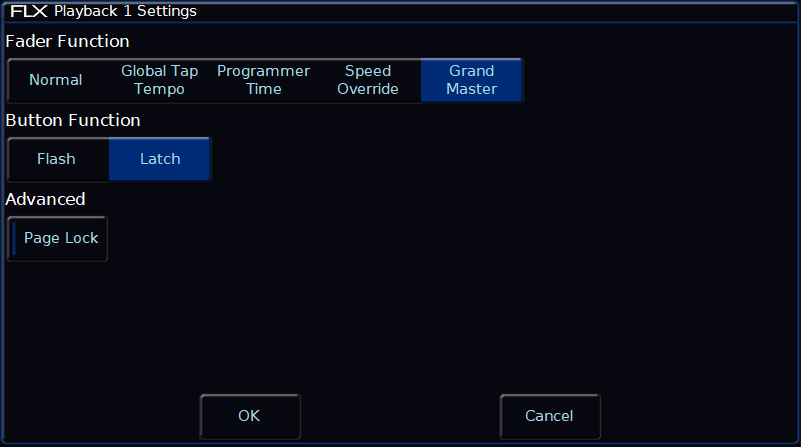 If you choose Grand Master, this playback fader will then become your console's Grand Master. This means that all of the current light output from the console can be controlled with this fader, and therefore if the Grand Master is at 0, you will have no light output as all intensities will be taken to 0.
After choosing Grand Master, you will receive a button function option. "Latch" is the default, meaning pressing the playback's button will activate Blackout. This means all intensities are taken to 0, and a second press resumes the intensities. Changing the button function to "Flash", will mean blackout will only be activated when the playback's button is held. The Page Lock option can be used, so that this fader is always your Grand Master, irrespective of the playback page you're on.
On FLX, pressing and holding Setup and tapping the Blackout key above the Grand Master fader, will also offer these four Special Playback options. Therefore you can configure your Grand Master fader to become one of the other extra options, such as Speed Override. Alternatively, you can tap Delete -> Blackout, to remove the Grand Master functionality altogether. It can then be configured again by holding Setup and tapping Blackout.
If you have configured an empty playback to become one of the four extra functions, the settings can be cleared by tapping Delete, followed by pressing the playback's button.