The image below, explains the front panel controls of the Solution console. This will also be applicable to the Solution XL console, however the Solution XL console has twice the number of channel faders (preset faders), and three times the number of playback faders.
Leapfrog 48 operates identically to Solution, and Leapfrog 96 operates identically to Solution XL, and so the guide below is also applicable to these consoles too.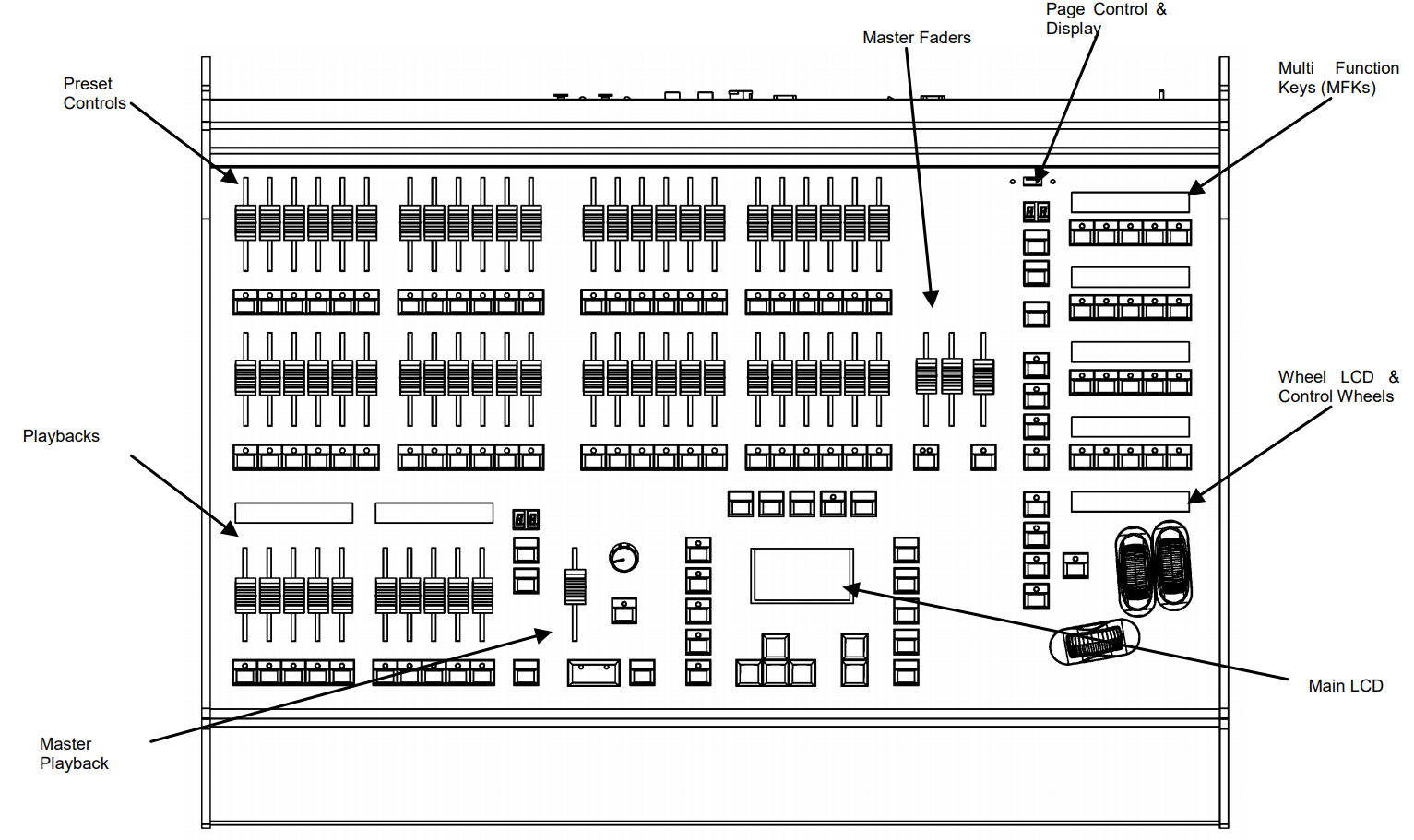 Fixtures
Solution console can control up to 248 fixtures, and Solution XL consoles can control up to 296 fixtures. Fixtures can be a simple generic dimmer channel, or an LED fixture, moving head, or in fact any device that can be controlled with DMX.
Fixtures with multiple controls, have their controls or "parameters" grouped into attributes. These attributes are Colour, Beamshape and Position. Fixtures can be given a user defined name and number, for ease of reference, and may be patched across 64 universes. These universes can then be output from the DMX ports on the rear of the console, or output over Ethernet. The total number of DMX channels that can be patched is 2048 channels.
Cues & Playbacks
Solution & Solution XL allow you to record lighting scenes into "Cues". Each cue has a number, name (optional), trigger, a wait time (auto cues) and a set of delay & fade times. Each cue is stored within a "Playback". A Playback can have a single cue (equivalent of a "submaster") or multiple cues (equivalent of a "cue list"). If there are multiple cues, they can either be played sequentially one after another, or turned into a chase (where the desk will automatically and continuously cycle through each cue). Multiple Playbacks are available to help separate and group cues together. A "Master Playback" is also available with larger GO button and dedicated PAUSE button.
The Solution desk has 20 pages of 10 playbacks, plus the Master Playback (201 in total).
The Solution XL desk has 20 pages of 30 playbacks, plus the Master Playback (601 in total).
Groups
Solution consoles provide 400 groups. Automatic groups for each fixture type can be generated if required.
Palettes
Solution consoles provides 400 user programmable palettes for each of the attributes (Colour, Beamshape and Position). The desk can also generate auto palettes which provide basic colours, gobos and positions based on the fixture types used in the desk.
Effects
The desk provides 400 user programmable effects. The desk can also generate a number of standard effects which include intensity, colour, beamshape and movement effects.
Macros
The desk provides 400 user programmable macros.
Lock Functions
The desk has a lock function which will prevent misuse of the desk.
Audio Input
The desk has an audio input, which may be used to trigger chases with bass drives.
Optional Remote Triggers Card
The desk provides SMPTE, MIDI and 6 contact closure inputs as an optional upgrade card, which can be used to trigger cues with SMPTE or MIDI timecode triggers.
Ethernet
The desk has an Ethernet port capable of supporting Art-Net and sACN. In addition to these outputs, this allows smart phones and laptops to be used as remotes.
USB Ports
The desk has four USB ports, which may be used for saving and loading show files, loading user fixture types and performing software upgrades. The USB ports on the desk support keyboard, mouse, external touch screens, memory sticks and desk lights.
Mouse and External Keyboard
The desk provides a USB mouse interface to allow you to move quickly around the monitor screen, select fields, choose options etc. The desk provides a USB interface to a standard PC keyboard, to allow text and numeric data to be entered.
Video Output
The desk provides the interface for one external monitor display (XGA). It is highly recommended that the desk is operated with a monitor display connected, as important information is displayed here.
DMX Output
Data is output on DMX channels 1 – 512 on four DMX universes as standard. The DMX output sockets on the rear panel of the desk default to outputting universes 1 to 4 only when fixtures are patched onto the respective universes.