Add Fixtures
Missing Fixtures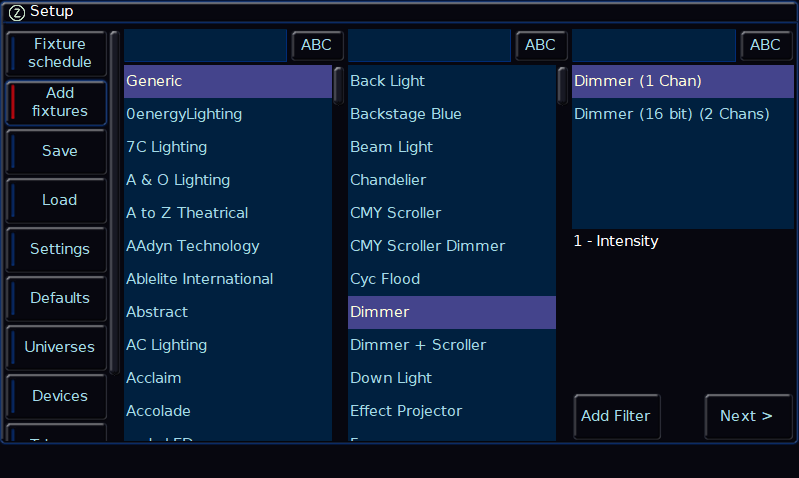 Add Fixtures gives you access to thousands of fixtures. However, you may find the fixture you are trying to control is missing.
The following steps can be followed if your fixture is missing:
Firstly, make sure your console is running the latest version of the ZerOS Library.
If you are running the latest version of the ZerOS Library and your fixture is missing, you may find that there is a different type of fixture in the library, that can be used to control your fixture.
If there are no suitable alternative fixtures in the library, it is worth finding out whether your fixture supports RDM. If it does, ensure that RigSync is enabled on your console, and connect the fixture. ZerOS will be able to detect your fixture, and then create a basic fixture personality over RDM to allow you to control your fixture.
If the fixture does not have RDM capabilities, you can create the fixture file yourself, using the free Fixture Editor software for Windows.
If you are unable to use the Fixture Editor software, you can send us an email, with a link to the fixture's official English manual. We will then be able to create the fixture file for you, and send the fixture file to you once created. This will then get added to a future ZerOS Library release.
If you have created a fixture file, or have been sent a fixture file from Zero 88, you will be able to load it into your console.
Save the file to a USB stick, and plug into the console. Then tap Setup -> Load, and choose the fixture file to load in from USB.