If the fixture you need to control is not included in the latest ZerOS Library, don't worry! There are many options available to you to gain control of your fixture.
If you have a fixture file for a missing fixture, it can then be loaded into the console.
When you have a fixture file on a USB drive, plug the USB drive into the console. Then tap Setup -> Load, and choose the fixture file to load in from USB.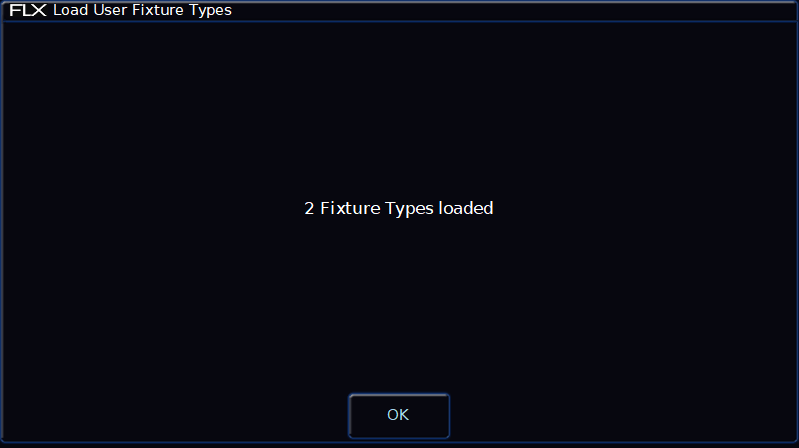 Once loaded, a confirmation will appear saying "x Fixture Types loaded" (x being the number of fixtures included within the single file).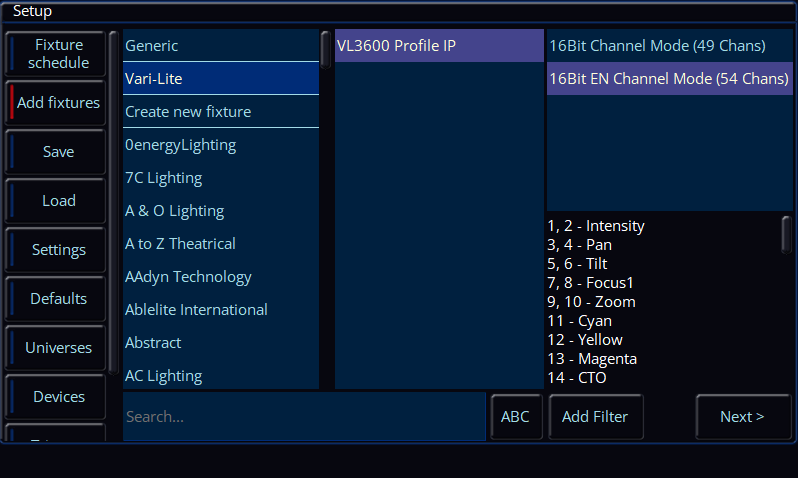 Upon pressing OK, you will be taken to Add Fixtures, with your loaded fixtures "pinned" to the top, to allow you to quickly patch them.
.zfix
If you export a fixture from your console it will be saved as a .zfix file. zfix files are in the same format as fixtures in the ZerOS Library, and so will be displayed like a normal library fixture in Add Fixtures and the Fixture Schedule. .zfix files may occasionally be provided by the Fixture Support team.
GDTF
GDTF, jointly developed by the GDTF Group, is an industry standard for entertainment fixture profiles, intended as a unified definition for the exchange of data for the operation of intelligent luminaires. A GDTF file for a specific fixture can be downloaded from the fixture manufacture's website, or GDTF Share, and loaded into the console.
Fixtures from manufactures who do not provide GDTF files can be built using the GDTF Builder online tool. This tool is the primary way to make comprehensive fixture personalities, including multicell fixtures.