Any ZerOS Show file, saved from any console or Phantom ZerOS, can be loaded onto the console from a USB Storage Device. For ultimate compatibility, it is suggested that both consoles are running the same software version.
When loading a show file, all information on the console will be lost. Therefore, ensure you save your current show first before loading another file.
Two formats of ZerOS show files can be loaded; .zos and .isf files. .zos show files are ZerOS show files saved in ZerOS 7.9.8 or later. .isf show files are "legacy" show files, saved in ZerOS 7.9.7 or earlier.
Select the show file you wish to load in and press Load to load the show. The console will load the show and you will automatically leave Setup.
When loading a ZerOS Show file, you are given three options – Load Complete Show, Load Setup Only and Load Setup & Palettes. Loading a complete show brings the console back to the same settings that were defined when the show was stored - Patch information, Cue Information, UDKs, Palettes, Groups, Macros, Desk Setup and Network settings will all be restored. Loading just the setup, will give all your settings and the patch, however load none of the programming in the show file. Loading setup and palettes, is especially useful if you always use the same rig with your console - your base configuration including palettes will be loaded, ready for you to program the next show.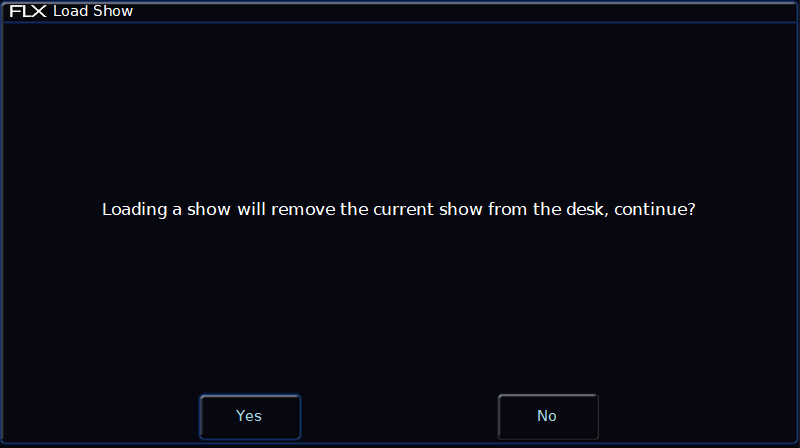 After clicking "Load", the console will warn you that the current show on the console will be lost. Click Yes to proceed with loading the new show, and overwrite the current show on the console. Click No if you need to save the current show first, prior to loading in the new show.