Art-Net 4 is a lighting protocol which sends DMX data over Ethernet. The protocol allows for multiple DMX universes to be sent over a single Ethernet cable.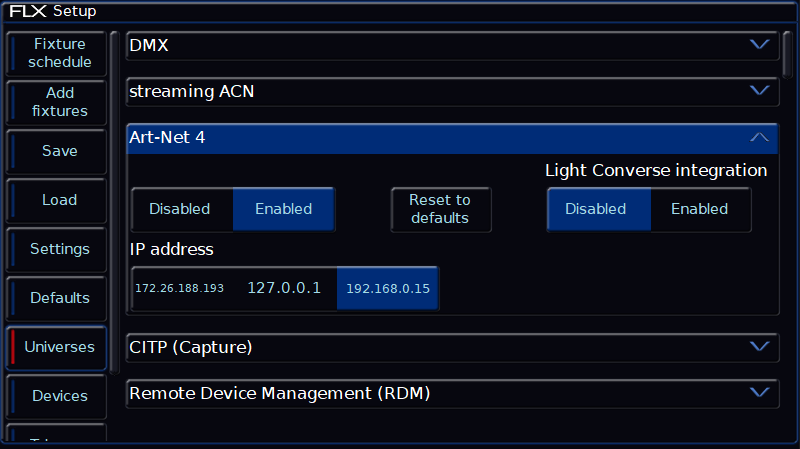 Within the Art-Net 4 panel, you can choose to enable Art-Net 4. Once enabled, you will be able to configure the Art-Net 4 protocol.
By default, Art-Net 4 universes will be mapped 1:1 with Desk Universes.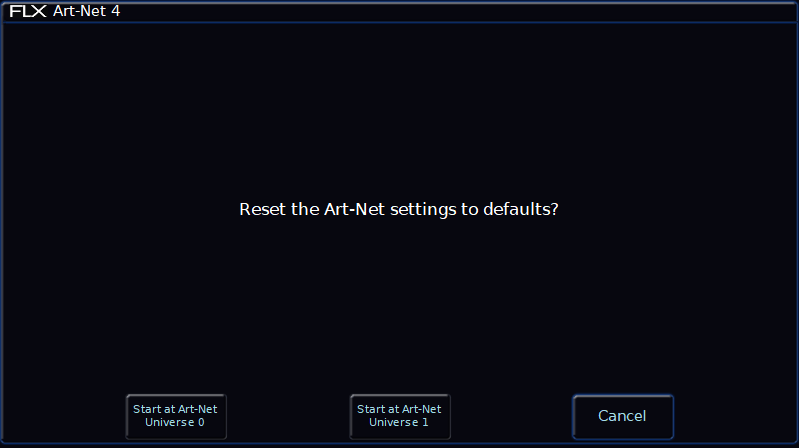 If you have changed the Art-Net 4 settings per Desk Universe, you can choose to "Reset to defaults". This will prompt you to start the Universe numbering from either Art-Net Universe 0 or Art-Net Universe 1. Technically the first available Art-Net 4 universe is "Universe 0", but on modern devices it's usual to ignore Universe 0, and start at Universe 1 – providing a "1-to-1" numbered universe patch, rather than an offset of 1.
Light Converse integration
Within the Art-Net panel is an option to enable Light Converse integration. Light Converse is a visualisation software package which uses Art-Net to communicate with ZerOS consoles. The rules of Art-Net apply when configuring a Light Converse setup. Leave this option disabled if you are not using Light Converse.
IP Address
The IP address options will allow you to configure your Art-Net network settings. You can choose between using a DHCP address, a static IP address, or a Primary/Secondary IP address.
The Primary/Secondary IP address are predefined IP addresses, in the format 2.x.x.x for the primary, and 10.x.x.x for the secondary (both with subnets of 255.0.0.0). Many Art-Net devices default to either a 2.x.x.x or 10.x.x.x IP, and so the Primary and Secondary option are quick ways to get you communicating with Art-Net devices with as little configuration required as possible.
Art-Net 4 traffic is mostly transmitted as "Unicast" data.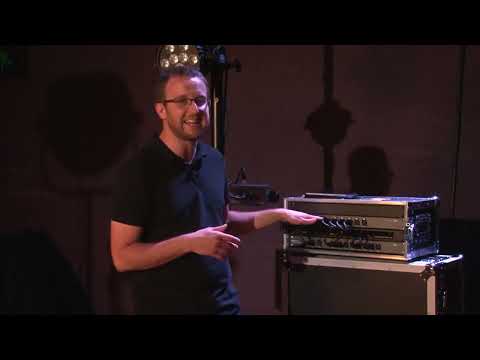 Once you have transmitted your Art-Net data from the console, you can then send it to your fixtures over Ethernet. Often, Art-Net universes are then converted back to DMX universes, using an Ethernet to DMX Gateway.
Zero 88 manufacture Gateway 4 and Gateway 8 Ethernet to DMX Gateways.
Click here to head to the Gateway 4 page.
Click here to head to the Gateway 8 page.
Watch the video here for an overview of Gateway 4 and Gateway 8.
Once Art-Net has been enabled, and network settings configured, any Art-Net devices that your ZerOS console can see, will be displayed in the Devices tab of Setup. Click here to find out more.
Take a look at the session below for an introduction to Art-Net...