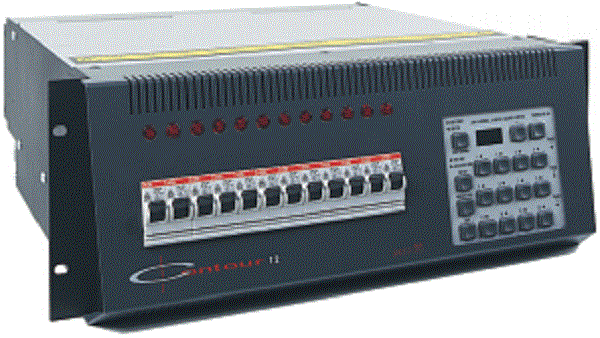 The Contour dimmer is a 12 channel 4U high 19" rack mounting digital dimmer. It has both DMX and analogue control inputs, and is designed for use with 3 phase star / delta, or single phase supplies.
Each channel is continuously rated at 13 amps (or 21.7 amps) with outputs protected by circuit breakers. It has simple to use controls for channel test, setting the operating mode and DMX start address. It is also easy to set the preheat level, dimmer law, and maximum level of each channel individually using the front panel controls.
Indicator lights show that DMX data is being received, that errors have / have not been received and show the status of supply phases present. A three digit display shows the DMX start channel. The dimmer is fan cooled with two temperature controlled fans, and has an electronic overload protection system.
Connections are provided for DMX In and Out; DMX and Analogue inputs may be used simultaneously. Fault diagnosis and test features are built-in to confirm the operation of the dimmer and the inputs.