Edinburgh Fringe Festival

Fringe
Edinburgh, Scotland
It would take you nearly eight years to watch every performance at the Edinburgh Festival Fringe.
It is Edinburgh Fringe Festival time again - the month of August where for almost four action-packed weeks, the Scottish city becomes a maelstrom of innovative, provocative and entertaining new theatre and performance, with works embracing all genres.
Over 100 x Zero 88 lighting consoles – including the award winning FLX range and a variety of legacy products - are working hard across the 300+ venues running in and around the city during the event, and the company has once again been at the forefront of offering comprehensive onsite training and support.
The Zero 88 team fully embraced the vibe, buzz and excitement of the Edinburgh Fringe Festivals where they are always – again – on the ground with training and technical support for a range of their lighting consoles and control solutions!
Recently they also embraced the sociosphere with the creation of #behindthefringe – a fun and informative forum for anyone into fringe performance and involved with a show using Zero 88 products!
Zero 88's product manager for entertainment Jon Hole believes that the fringe is a fantastic place to meet and train potential new technicians and users and get them into the Zero groove. In recent years, he and his team have maintained a strong presence through the event, ensuring that anyone using a Zero 88 product – has full access to hands-on support.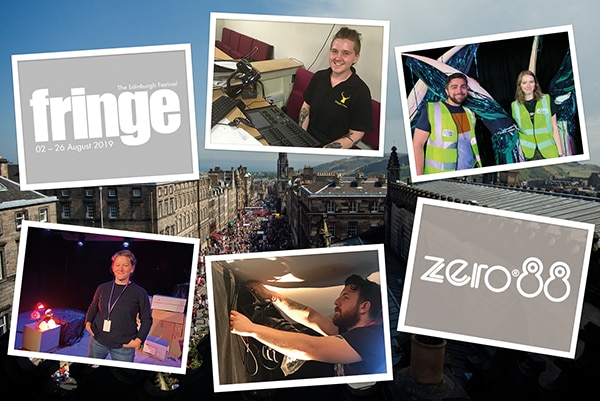 At a Fringe event you need a product that a wide number of people will be familiar with and that is easy to learn and use for those who aren't... and of course it has to be cost effective for the venue provider.
Dan, White Light


Every year, Zero 88 provide unprecedented free training and support to hundreds of venues running Zero 88 control, data and power during Edinburgh Festival Fringe. Meet some of the venues, suppliers and technicians benefiting from the speed, simplicity and reliability of using Zero 88 #BehindtheFringe.
We all love the Fringe Festival for many reasons including the lively atmosphere together with the ambition and excellence of so many of the works. It's great to be a part of all that, as well as seeing the consoles pushed to new levels by multiple lighting designers, programmers and operators from all sectors of the industry, and with assorted levels of knowledge and experience.
Jon Hole, Zero 88 Product Marketing Manager