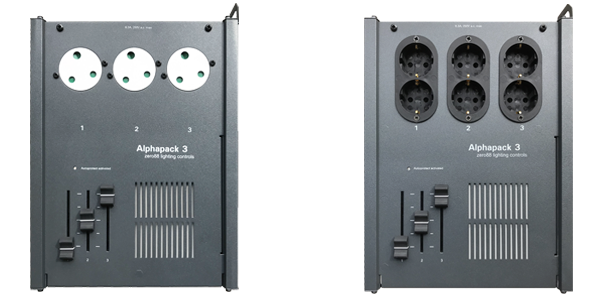 Alphapack 3 range are 3 channel fully portable dimmer units, which can be safely secured to a stand or truss with the use of a hookclamp or half coupler, connected to either of the M10 threaded mounting holes on the top and rear of the unit. Alternatively the optional mounting bracket (sold separately) allows Alphapack 3 to be mounted onto a wall or piece of scenery.
This compact and rugged unit has 3 faders for local control, or can be controlled remotely as part of a larger lighting system. The Alphapack 3 offers full DMX control input providing maximum flexibility for a great price. A unique safety system and overload protection circuit means that the Alphapack 3 provides an extremely safe and reliable solution to small dimming applications, never allowing the dimmer loads to draw more current than is available from the supply.
E&OE. Zero 88 reserves the right to make changes to the equipment and specification described in this manual without prior notice.